Middle School and High School staff and students are welcome to join in with our 12 Days of Holiday Cheer dress up days starting on December 7th!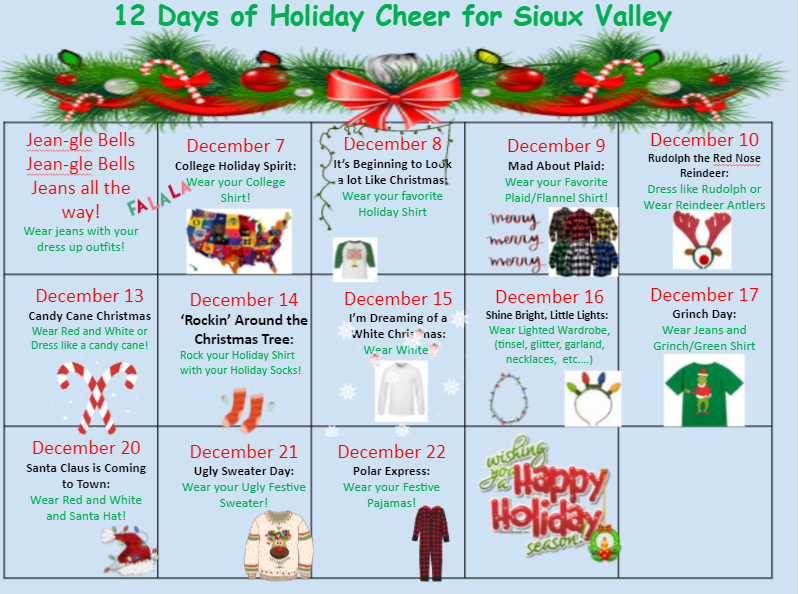 Good Luck to our Oral Interpers at the State Competition Friday and Saturday! A couple pictures from the Pep Rally yesterday.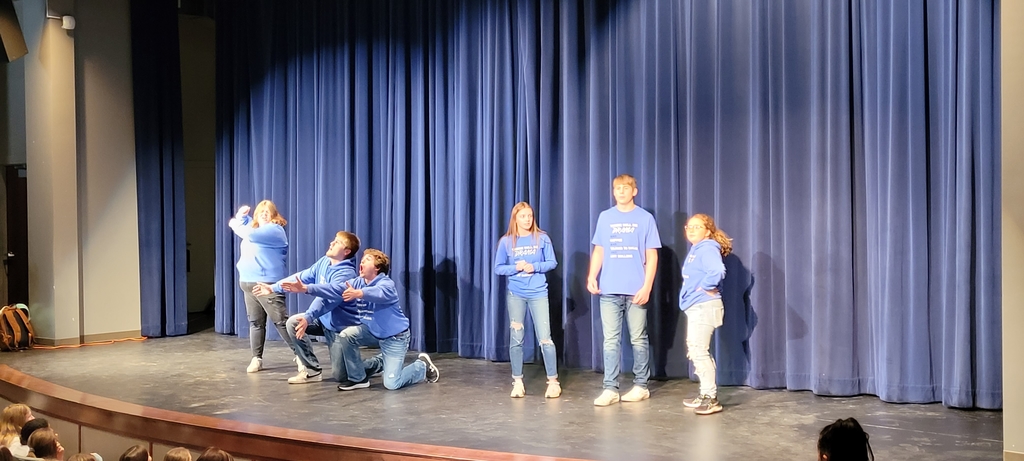 This Thankful Thursday shout out goes to Mrs. Dawn Lucas. She arrives early to school every morning to plan and prep for her day, and she creates a fun learning experience for her students each day. Mrs. Lucas knows her students well and strives to teach in a way in which her students find success. She inspires those around her to focus on the heart of teaching, keeping our sights on using what we know that works while learning how to incorporate new curriculum. Her knowledge is powerful. Here's to perseverance, strength, and grit. Here's to Mrs. Dawn Lucas.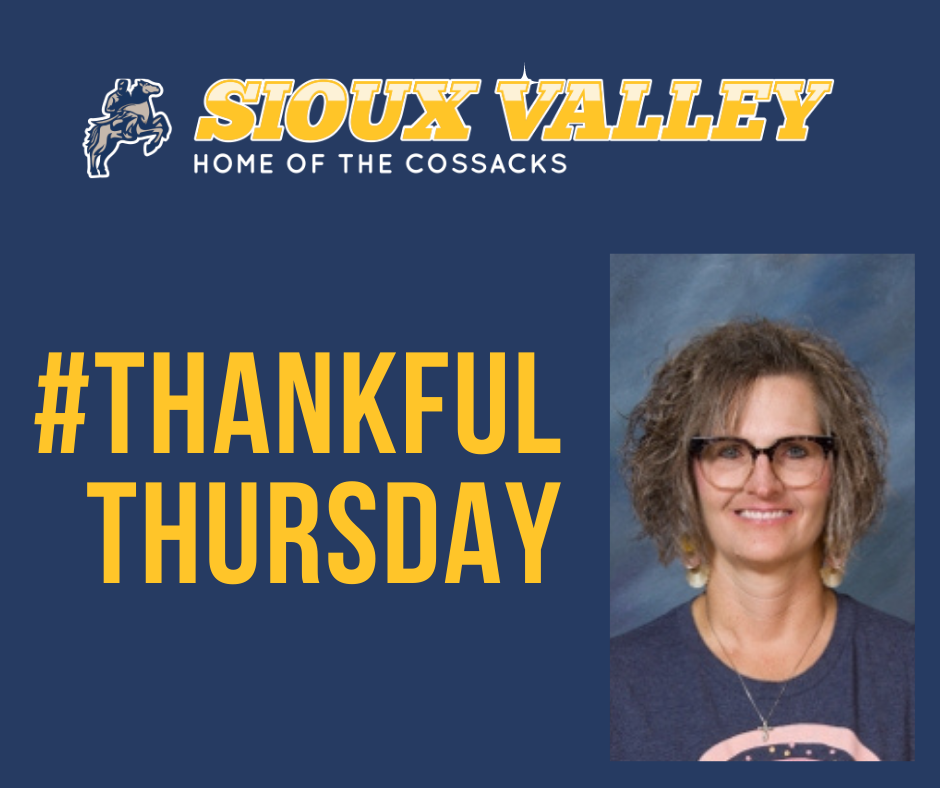 December Homework Help Dates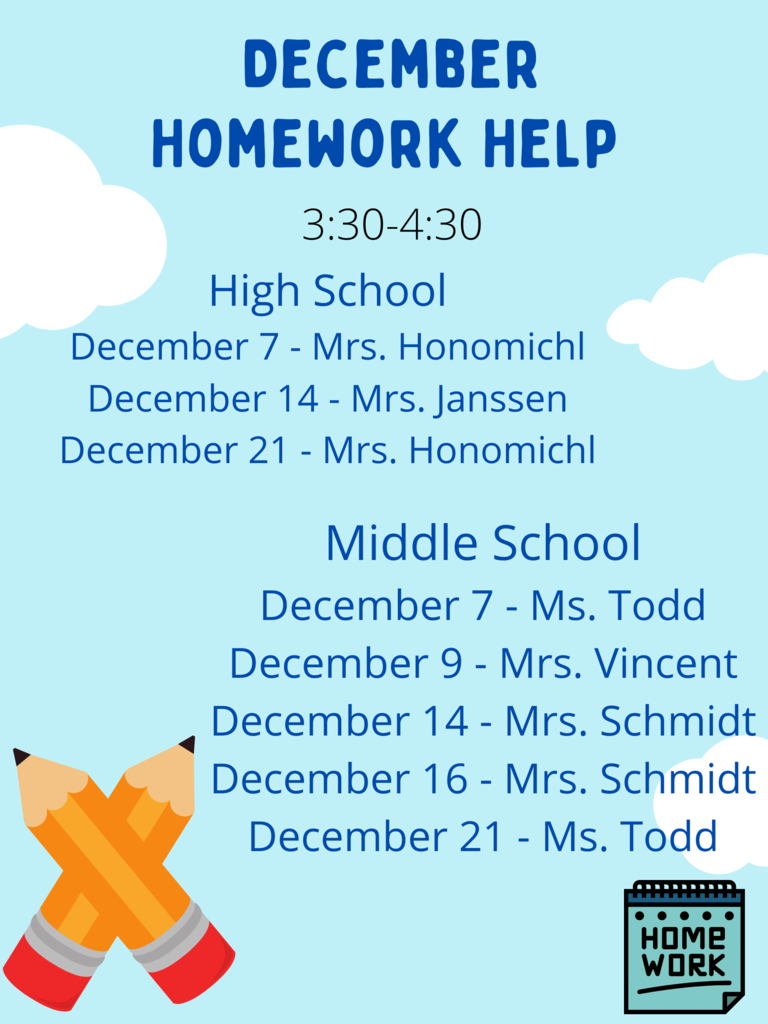 On behalf of the staff at Sioux Valley, we wish you and your family a Happy Thanksgiving! We have so much to be grateful for with our tremendous students, staff, and our caring community.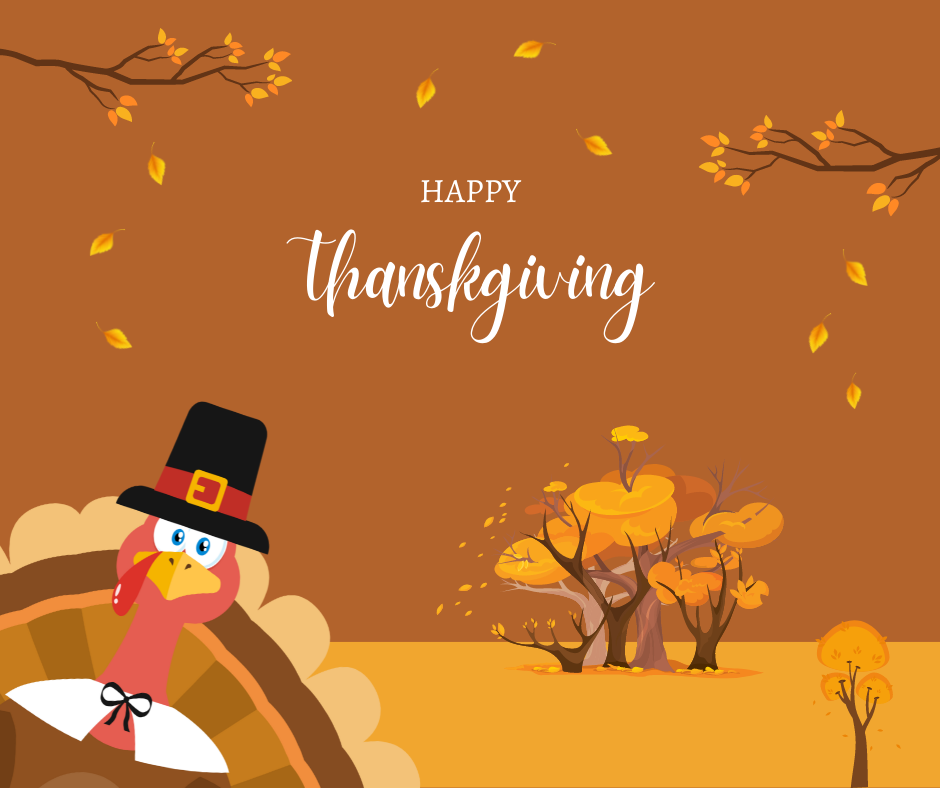 We are thankful! Thank you to students and families for making daily attendance a priority. The habit of attendance will help students do well in the classroom and eventually in a job. Let's continue to work together to help all kids attend today, so they can achieve tomorrow.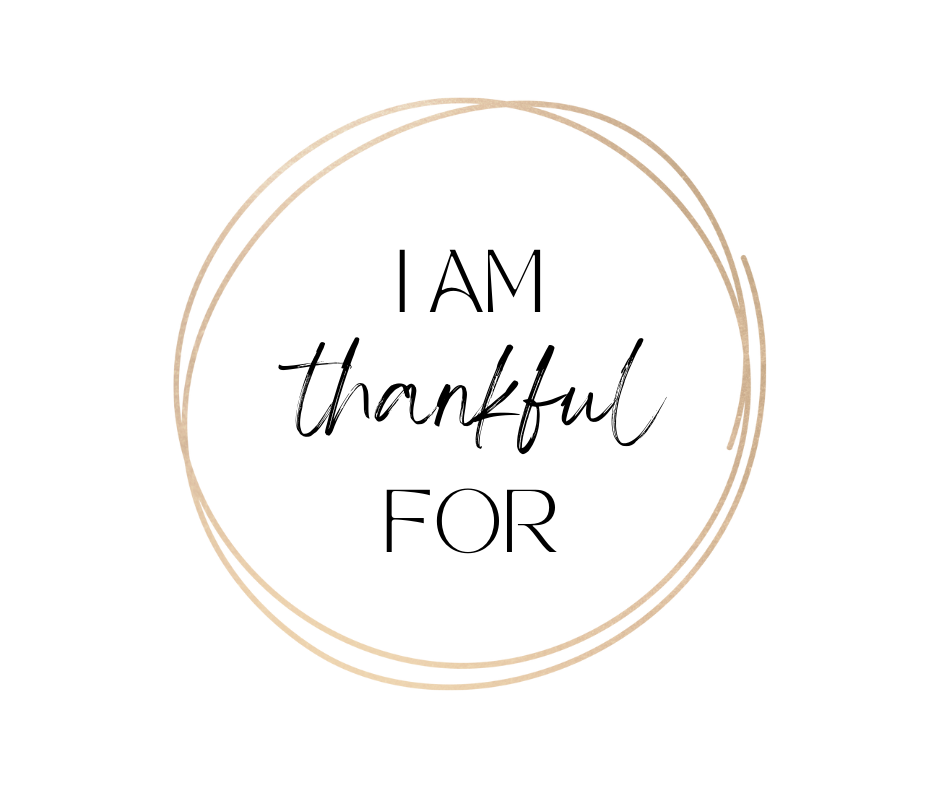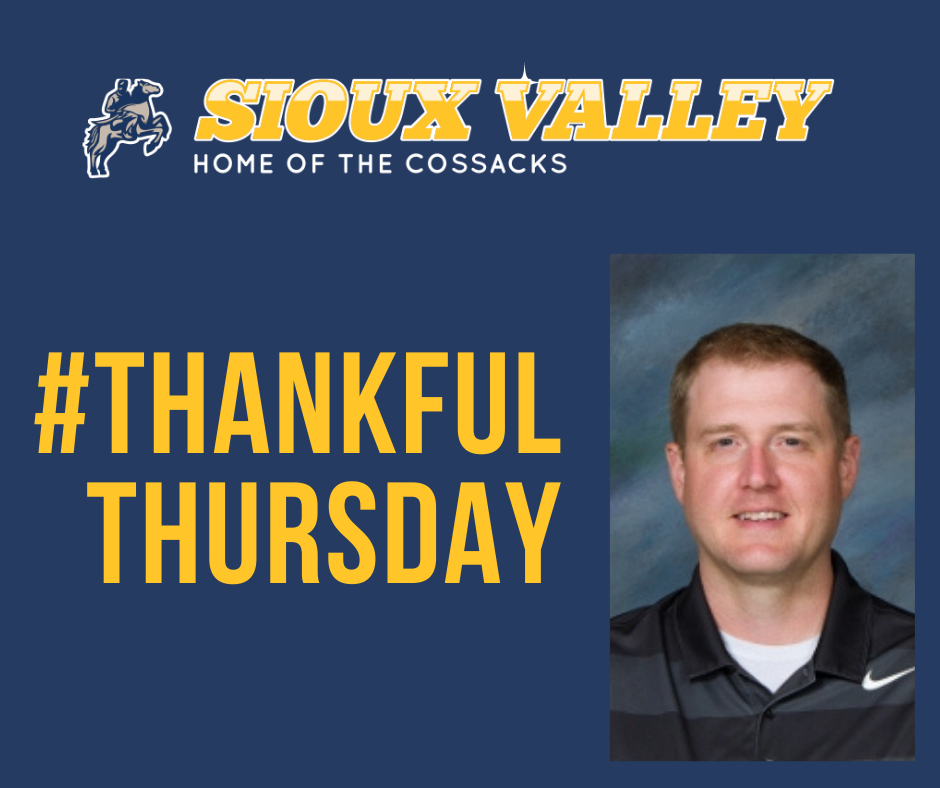 Sioux Valley will be making up the day of school missed on November 12th due to the weather on Monday, January 17th.
Report cards for middle school and high school students that were not picked up during conferences will be sent home with your child today.

Good Afternoon, We will be pulling a new list for weather calls from campus of active students & phone numbers associated with them. The school reach data base crashed last year & they uploaded a list that had some old numbers. My apologies if you got a call this morning.
Reminder: 1st Period Middle School Exploratory classes will rotate starting on Monday, November 15th for our 7th graders and 8th graders.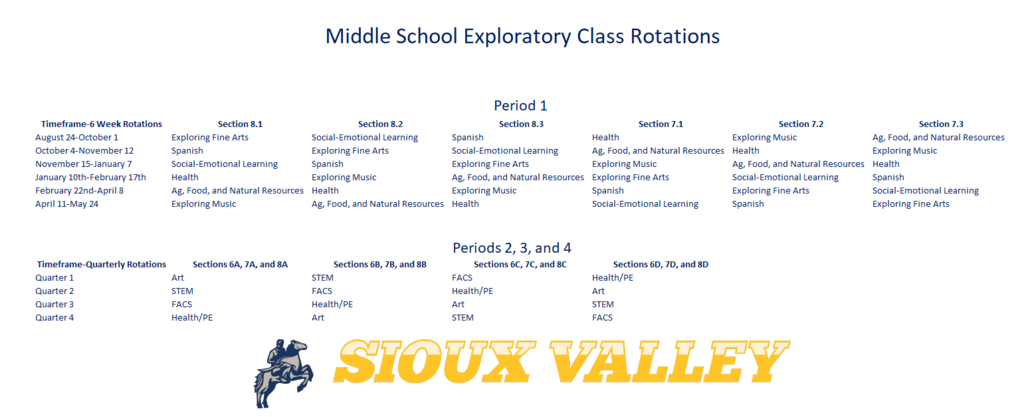 Friday, November 12th Due to the wind and current weather conditions, No School today at Sioux Valley School and Volga Christian School.
This Thankful Thursday rightfully goes out to the people that our entire country is thankful for and celebrating today, our veterans. Thank you for your service to your country, community, and our school!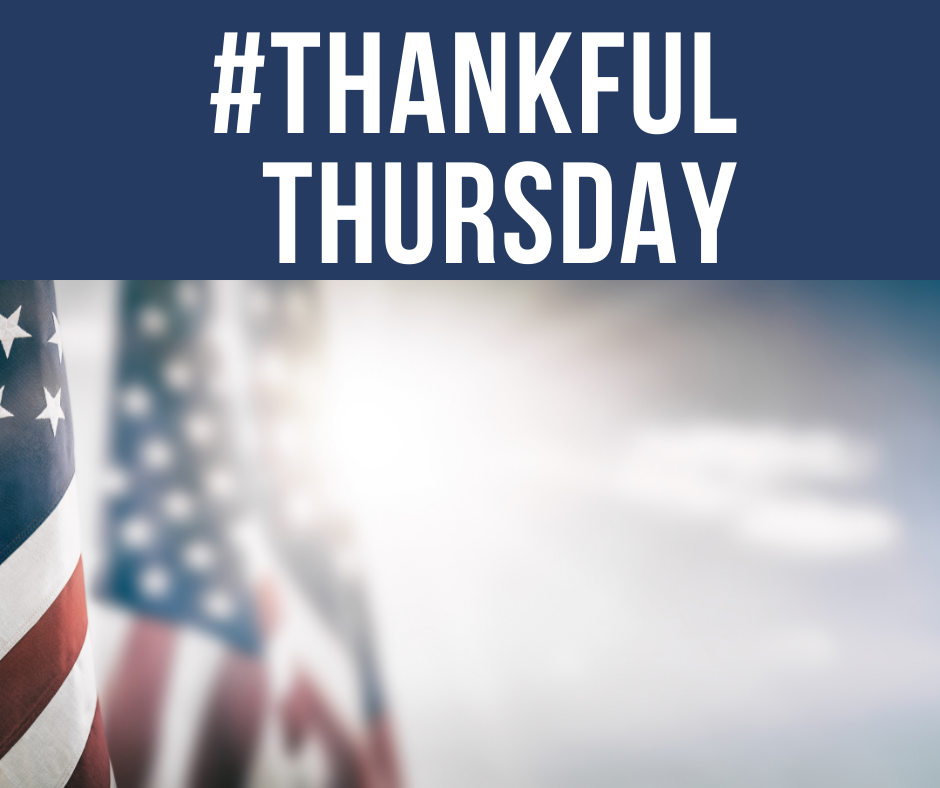 Sioux Valley will be hosting the annual Veteran's Day Program on Thursday, November 11th at 8:30 a.m. in the High School Gym.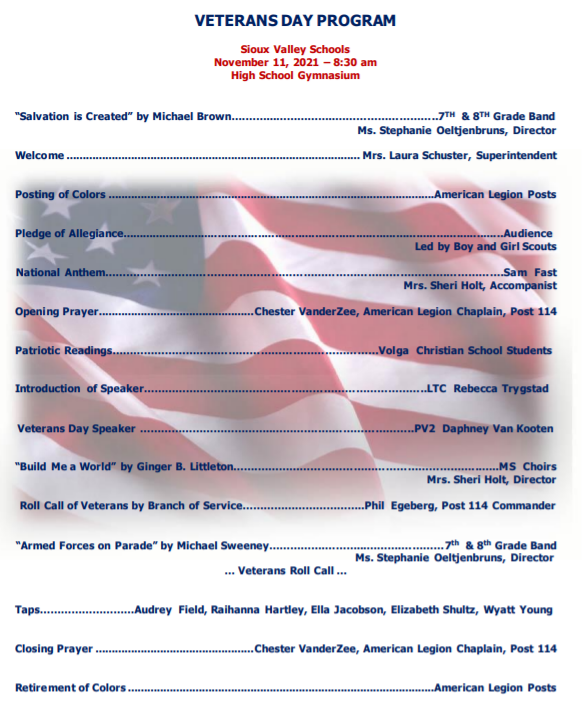 This Thankful Thursday shout out goes to Mrs. Honomichl, our high school math teacher. You will not find a more dedicated teacher than Mrs. Honomichl. She has a relentless drive to help all her students learn, grow, and achieve both in the classroom and in life. Mrs. Honomichl is a great teacher-leader within our school. She also has our oral interp team rocking right now! Mrs. Honomichl, thank you for all you do for our school!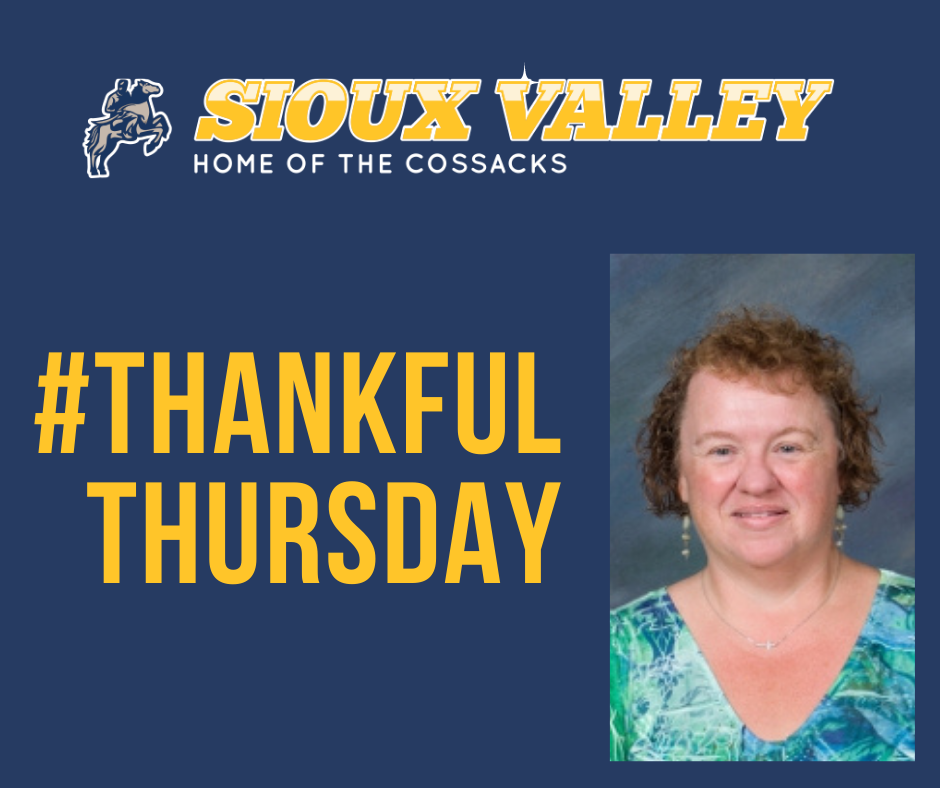 Sioux Valley Fall Play "Don't Try to Wake Him, Hand Me the Shovel" shows on November 13th, 7:30 pm and November 14th, 2:00 pm. Admission is $6 for Adults & $1 for JK-12 Students. Activity passes are accepted.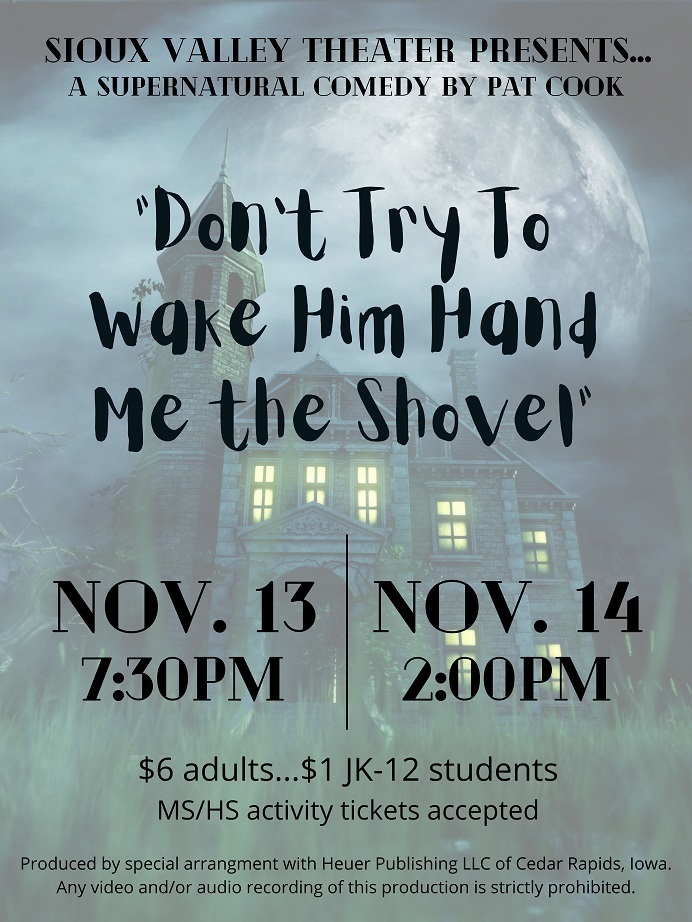 All State Chorus ready to perform! Go Cossacks!